Meet Jen Sincero
Up Coming Events
Wednesday, December 12th
Unfortunately, the talk portion of the Jen Sincero "You Are a Badass Every Day" event is SOLD OUT. Tickets are available for the meet-and-greet that takes place after the reading.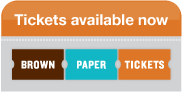 Meet-and-Greet ONLY ticket holders will have access to the signing/photo-op and will receive a copy of Jen's new book "You Are a Badass Every Day" (reading not included). Meet-and-Greet ONLY ticket holders will be admitted after the reading has ended.
Meet and Greet ONLY ticket holders will be allowed to line up beginning at 7:30 pm. Jen will only sign the copy of her new book included in your ticket. No books previously purchased will be signed.
Plenty of people wake up on the first of the year determined to join a gym, come up with a consistent workout routine, and get themselves into shape. The committed triumph, because they understand that they have to work continuously to maintain fitness—you can't just get fit and quit. The same is true, Sincero argues, for strengthening the muscles of badassery.
In YOU ARE A BADASS EVERY DAY, she explains that in order to maintain what it takes mentally and emotionally to achieve success, you have to go to "the spiritual gym," which can consist of a number of things depending on the person, including meditation, studying self-help books, journaling, and visualizing success, for a total of 15-30 minutes a day.
YOU ARE A BADASS EVERY DAY is the accountability buddy that helps readers craft up with their spiritual fitness routine and stick to it using exercises, reminders, meditations, and "loving motivational spankings," all delivered in Sincero's signature voice. The book is a secular devotional that is designed to allow readers to either go in order page by page, or open up to random page when they need a quick hit of that sweet, sweet motivation.
Jen Sincero is a different kind of financial and motivational guru. In her early forties, she finally grew tired of living off of Taco Bell with tumbleweeds blowing through her bank account, and over a few years, transformed herself. She is now a sought-after speaker and bestselling author who travels internationally to share her wisdom and wit, helping people change their lives and their bank accounts.
Event address:
Pages a Bookstore
904 Manhattan Ave.
Manhattan Beach, CA 90266