Elana K. Arnold Author Event at Inspire Charter Schools
Elana K. Arnold Author Event at Inspire Charter Schools
Thursday, March 2nd 9:45AM and 10:30AM
Pre-Order Books for School Delivery
To Order:
In the comments field, please note the name of your child and the teacher's name so that we can arrange to deliver it to your child at school.
When you are checking out online, select "pick up at store" for the delivery method, but we will deliver to Inspire Charter Schools before or on the day of the event. The books cannot be picked up at the store ahead of time.
Order deadline is Monday, February 20th to ensure books arrive at the school by the day of the event. We are happy to take orders after February 20th to deliver after the event. Use coupon code ICS to receive 10% discount.
Please direct questions to margotfarris@mac.com.
ELANA K. ARNOLD completed her M.A. in Creative Writing/Fiction at the University of California, Davis. Elana lives in Huntington Beach, California, with her husband, two children, and a menagerie of animals.
Event date:
Thursday, March 2, 2017 - 9:45am

$16.99
ISBN: 9780544602274
Availability: On Our Shelves Now
Published: Houghton Mifflin - March 8th, 2016
Odette Zyskowski has a list: Things That Aren't Fair. At the top of the list is her parents' decision to take the family on the road in an ugly RV they've nicknamed the Coach. There's nothing fair about leaving California and living in the cramped Coach with her par-ents and exasperating younger brother, sharing one stupid cell phone among the four of them.
---

$6.99
ISBN: 9780544668522
Availability: Usually Ships in 1-5 Days
Published: Houghton Mifflin - March 8th, 2016
Sixth-grader Iris Abernathy hates life in Corvallis, Oregon, where her family just moved. It's always raining, and everything is so wet. Besides, nothing has felt right since Iris's best friend, Sarah, died.
---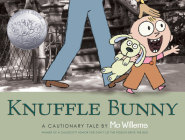 $17.99
ISBN: 9780786818709
Availability: On Our Shelves Now
Published: Hyperion Books for Children - September 1st, 2004
Trixie, Daddy, and Knuffle Bunny take a trip to the neighborhood Laundromat. But the exciting adventure takes a dramatic turn when Trixie realizes somebunny was left behind
---