Children's Story Time
Regular Story Time on Mondays at 10:30am
Geared towards kids aged 2-6 and everyone is welcome.
We don't usually schedule story time on holiday Mondays. However we do have a special story time on Monday, February 20th at 10:30am with Andrea Loney. For more information, click here.

Special Story Times:
Saturday, February 18th at 11am Louis Thomas, author of Hug It Out at the Manhattan Beach Library
Monday, February 20th at 10:30am Andrea Loney, author of Bunny Bear

$18.99

ISBN: 9780451472304
Availability: Out of Stock, but we can likely order it for you. We will advise if we cannot.
Published: Viking Books for Young Readers - September 6th, 2016
---

ISBN: 9780374303143
Availability: Indefinitetly out of print from the publisher
Published: Farrar, Straus and Giroux (BYR) - January 3rd, 2017
---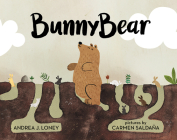 ISBN: 9780807509388
Availability: Indefinitetly out of print from the publisher
Published: Albert Whitman & Company - January 31st, 2017
---