Barnabas, Quentin and the Hidden Tomb (Library Edition) (Dark Shadows #31) (CD-Audio)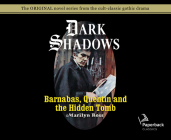 $19.99
Email or call for price.
Other Books in Series
This is book number 31 in the Dark Shadows series.
Description
---
Barnabas, Quentin and the Hidden Tomb (December 1971)

Ellen awoke to see a ghostly figure moving through the shadows to her bedside.

 "Ellen!" Her name was whispered hoarsely, but she recognized the voice. It was Aunt Kate's. 

"What's wrong?" Ellen asked, getting out of bed. 

"Dying…"

 Ellen sprang to her and eased her aunt down on the bed. "What is it?" 

​ "Danger… vampire."

Ellen found matches and lit the candle on her bedside table. As she studied her aunt's death-like face in the flickering light she was appalled. "I must rouse the others and get a doctor!"

"Too late," Aunt Kate whispered. "I'm dying. Don't stay here. Find Barnabas… leave tonight."
About the Author
---
Marilyn Ross is the pseudonym for William Edward Daniel "W.E.D." Ross (November 16, 1912 - November 1, 1995) was a Canadian actor, playwright and bestselling writer of more than 300 novels in a variety of genres. He was known for the speed of his writing and was by some estimates the most prolific Canadian author ever, though he did not take up fiction until middle age.
 
He wrote popular romances and gothic fiction as W. E. D. Ross and Dan Ross and under a variety of mostly female pseudonyms. As Marilyn Ross, he wrote popular gothic fiction including a series of novels about the tormented vampire, Barnabas Collins, based on the American TV series Dark Shadows (1966–71). His second wife, Marilyn, served as first reader of his works, and "Marilyn Ross" was one of his favorite pseudonyms.