Barnabas, Quentin and the Grave Robbers (Library Edition) (Dark Shadows #28) (CD-Audio)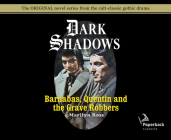 $19.99
Email or call for price.
Other Books in Series
This is book number 28 in the Dark Shadows series.
Description
---
Barnabas, Quentin and the Grave Robbers (June 1971)

"You see, Paula, how well it will work out. Lily will drink the blood of the village maidens—and Barnabas will be blamed."

 Paula stared at the evil doctor in horror. "Whatever happens to Barnabas, you'll still have Quentin to reckon with!"    Dr. Bentley sneered. "The werewolf? If Quentin tries to interfere with me, I'll find a way to deal with him."

Lily added, "Better come over to our side, luv."  "I'd rather die," Paula said firmly
.
"An interesting suggestion," Bentley remarked pleasantly. "Dying could be your first step in joining my company of friends—zombies, if you will. Then you could be truly useful to me."
About the Author
---
Marilyn Ross is the pseudonym for William Edward Daniel "W.E.D." Ross (November 16, 1912 - November 1, 1995) was a Canadian actor, playwright and bestselling writer of more than 300 novels in a variety of genres. He was known for the speed of his writing and was by some estimates the most prolific Canadian author ever, though he did not take up fiction until middle age.
 
He wrote popular romances and gothic fiction as W. E. D. Ross and Dan Ross and under a variety of mostly female pseudonyms. As Marilyn Ross, he wrote popular gothic fiction including a series of novels about the tormented vampire, Barnabas Collins, based on the American TV series Dark Shadows (1966–71). His second wife, Marilyn, served as first reader of his works, and "Marilyn Ross" was one of his favorite pseudonyms.