Barnabas, Quentin and Dr. Jekyll's Son (Library Edition) (Dark Shadows #27) (CD-Audio)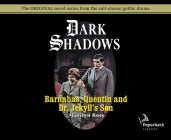 $19.99
Email or call for price.
Other Books in Series
This is book number 27 in the Dark Shadows series.
Description
---
Barnabas, Quentin and Dr. Jekyll's Son (April 1971)

Before the blizzard cuts Collinwood off from the rest of the world, Barnabas Collins arrives there from England, bringing with him his friend, Dr. Henry Jekyll, who hopes to find a new life where no one knows he is the son of London's most savage murderer.

 Another stranger also finds refuge from the storm at Collinwood. He calls himself Paul Faron, private detective—but to Barnabas, he is Quentin Collins, victim of the werewolf curse.
          
 As the personal tensions and animosities at the strange old house increase, a senseless, brutal murder takes place—and terror reigns at Collinwood. Obviously, the killer is someone living at the estate. And most under suspicion are Barnabas, Quentin and Dr. Jekyll's son.
​
As suggested by its title, a homage to Robert Louis Stevenson's 1886 novella, The Strange Case of Dr. Jekyll and Mr. Hyde, a text also used in the television series for inspiration
About the Author
---
Marilyn Ross is the pseudonym for William Edward Daniel "W.E.D." Ross (November 16, 1912 - November 1, 1995) was a Canadian actor, playwright and bestselling writer of more than 300 novels in a variety of genres. He was known for the speed of his writing and was by some estimates the most prolific Canadian author ever, though he did not take up fiction until middle age.
 
He wrote popular romances and gothic fiction as W. E. D. Ross and Dan Ross and under a variety of mostly female pseudonyms. As Marilyn Ross, he wrote popular gothic fiction including a series of novels about the tormented vampire, Barnabas Collins, based on the American TV series Dark Shadows (1966–71). His second wife, Marilyn, served as first reader of his works, and "Marilyn Ross" was one of his favorite pseudonyms.