The Mystery of Collinwood (Library Edition) (Dark Shadows #4) (CD-Audio)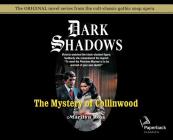 $19.99
Email or call for price.
Other Books in Series
This is book number 4 in the Dark Shadows series.
Description
---
The Mystery of Collinwood (January 1968)
Victoria stood on the ledge known as Suicide Cliffs and stared down at the raging surf and jagged rocks below. Next to her stood Professor Mark Veno, a mysterious visitor to Collinwood. He spoke to her in a low, sinister voice. "Think of all those who threw themselves from these very rocks."His eyes seemed to burn into hers.
"He's hypnotizing me," she thought. She was unable to make herself look away. "No," she cried. "He's forcing me to jump!"
The Professor came a step closer, his eyes still glowing. Victoria found herself unable to move—unable to speak. She was helpless as she felt her willpower dissolve under his evil spell…
 
About the Author
---
Marilyn Ross is the pseudonym for William Edward Daniel "W.E.D." Ross (November 16, 1912 - November 1, 1995) was a Canadian actor, playwright and bestselling writer of more than 300 novels in a variety of genres. He was known for the speed of his writing and was by some estimates the most prolific Canadian author ever, though he did not take up fiction until middle age.
 
He wrote popular romances and gothic fiction as W. E. D. Ross and Dan Ross and under a variety of mostly female pseudonyms. As Marilyn Ross, he wrote popular gothic fiction including a series of novels about the tormented vampire, Barnabas Collins, based on the American TV series Dark Shadows (1966–71). His second wife, Marilyn, served as first reader of his works, and "Marilyn Ross" was one of his favorite pseudonyms.