A Mountain of Friends (Hardcover)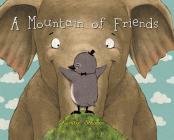 $18.95
Email or call for price.
Description
---
On Resource Links Best of 2013 list.
There once was a sad little penguin. The other animals were worried about him. "What's wrong?" they asked.
"I'm a bird but I can't fly No matter how hard I try, I can't get off the ground. Just once I want to soar above the clouds..."
Heartwarming and beautifully illustrated, Kerstin Schoene's North American debut picture book shows how working together can accomplish seemingly impossible goals. Young readers will enjoy helping penguin achieve his dream by reorienting the book and building a 'mountain of friends' to support him.
About the Author
---
Kerstin Schoene studied communication design at Bergische University Wuppertal, Germany. She enjoys using pencil, chalk and watercolors, but her favorite medium lately is her graphics tablet. She illustrates for various publishers, and writes and illustrates her own children's books. She lives in Haan, Germany, under the watchful eye of a furry friend.