Juno Valentine and the Magical Shoes (Hardcover)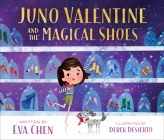 $18.99

Out of Stock, but we can likely order it for you. We will advise if we cannot.
Description
---
A New York Times Bestseller!

Featured in Oprah Magazine's Holiday Gift Guide
Recommended by Rachael Ray as the perfect holiday gift
Featured in InStyle's Holiday Gift Guide

Juno Valentine's favorite shoes don't light up. They don't have wheels. They are, to be perfectly honest, the tiniest bit boring. But they're still her favorite muddy-puddle-jumping, everyday-is-an-adventure shoes. One day, when they go missing, Juno discovers something amazing: a magical room filled with every kind of shoe she could possibly imagine!

Juno embarks on an epic journey through time and space, stepping into the shoes of female icons from Frida Kahlo and Cleopatra to Lady Gaga and Serena Williams. Each pair of shoes Juno tries brings a brand new adventure—and a step towards understanding that her very own shoes might be the best shoes of all.

Parents and children alike will adore Instagram superstar Eva Chen's precocious debut picture book Juno Valentine and the Magical Shoes—a story that's equal parts fashion fairy-tale and guide to girl power—and fall in love with the brilliantly spirited Juno Valentine.

Praise for Juno Valentine and the Magical Shoes:

"[A] fresh take on a fairy tale." —Forbes.com

"Those who are 3, 13, or 30 can all enjoy the book." —Vogue.com

"Not only does this book pay homage to some of history's greatest women, it also gives them snaps for their fashion sense." —Romper
About the Author
---
Eva Chen is a first-generation Chinese-American who grew up in New York City. She blames her deviation from pre-med at Johns Hopkins University on a love of fashion and beauty instilled in her by her mother, whose perfect bob and lipstick made a permanent imprint on her impressionable young mind. Previously the editor in chief of Lucky, Eva has also written for ELLE, Vogue, Teen Vogue,Vogue China, the New York Times, and the Wall Street Journal. She is currently the head of fashion partnerships at Instagram, where she is guilty of the occasional duck-face selfie. Eva lives in New York City with her husband and two children. She is the author of Juno Valentine and the Magical Shoes, A Is for Awesome, and Juno Valentine and the Fantastic Fashion Adventure.

Derek Desierto, illustrator of Juno Valentine and the Magical Shoes, is a Vancouver-based illustrator, designer, and overall nice guy from a nice family. His animation work has been recognized by the Ottawa International Animation Festival, the National Cartoonist Society, and 9 Story Media Group. Currently, he is living the dream as a freelance artist for animated TV shows and picture books. His ultimate goal in life is to meet Oprah and become one of her Favorite Things.
Praise For…
---
Juno Valentine and the Magical Shoes:

A New York Times Bestseller!

Featured in Oprah Magazine's Holiday Gift Guide
Recommended by Rachael Ray as the perfect holiday gift
Featured in InStyle's Holiday Gift Guide

"[A] fresh take on a fairy tale." —Forbes.com

"Those who are 3, 13, or 30 can all enjoy the book." —Vogue.com

"Not only does this book pay homage to some of history's greatest women, it also gives them snaps for their fashion sense." —Romper

"Kids need more books like this." —HelloGiggles

"[This book is] not going to drop without a bang." —Refinery29

"[A] charming story." —MyDomaine

"Chen proves that the accessory can actually provide an important teachable moment for young kids." —WhoWhatWear