Mouse (Hardcover)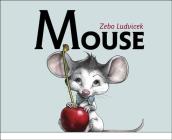 $16.99
Usually Ships in 1-5 Days
Description
---
A hungry mouse discovers the alphabet, nibble by nibble, in this playful tale.

When the letter M comes upon a hungry little mouse with a delicious-looking cherry, he can't help but ask for a bite. The mouse reluctantly agrees, only for the M to devour the entire thing In exchange, the M offers the mouse some of itself, but after a few bites the M has suddenly become an N. So begins the mouse's journey through the many letters of the alphabet thanks to some creative nibbling and imaginative illustrations from debut author/illustrator Zebo Ludvicek.
About the Author
---
Zebo Ludvicek graduated with a BFA from the University of Maryland. The rest, as they say, is art history. Today, Zebo takes commissions for murals and portraits from NYC to Key West, and her illustrations have appeared in numerous newspapers and magazines. Zebo happily resides in not-so-sunny Florida with her always sunny husband, Sam, and their two dogs, Bean and three-legged Mouse.