Up, Up, Up, Down! (Board book)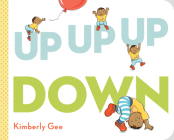 $7.99

Out of Stock, but we can likely order it for you. We will advise if we cannot.
Description
---
This action-packed toddler's day with Dad is full of opposites—and now in board!

From his first demand to be picked up and then immediately put down, opposites pop up all day long for this energetic boy. Breakfast is no, no, no, yes! At the sandbox, it's make, make, make, break! And jumping into the pool goes from can't, can't, can't, to can!

Kimberly Gee's expressive illustrations emphasize the loving connection between a boy and his father in this clever concept book about everyday highs and lows is now in sturdy board, ready to become a staple in toddlers' hands and bookshelves'.
About the Author
---
One day when Kimberly Gee's twins were toddlers, she was getting them ready to leave the house. She might have been a tiny bit pressed for time. She might have encouraged the twins to HURRY--about a dozen times or so. Then, just as she opened the front door, they ran out of the house! "SLOW DOWN!" she called. The twins turned and gave her a look that said, Didn't you tell us to hurry? This made Kimberly notice that a toddler's day is full of opposites (and the parents' day, too!). Chuckling over the joy (and work!) of those toddler-rearing days inspired her to create this book. Kimberly is the author-illustrator of Mad, Mad Bear! and Today with Meg and Ted, and the illustrator of The Class (by Boni Ashburn). She lives in Claremont, California, with her twins and their dad.
Praise For…
---
"For all collections serving the impetuous, contradictory, joyful, exploratory board book crowd. . . This book may have been born as a picture book, but its true self suits the sturdier format perfectly." -School Library Journal, starred review of the board book edition


"A toddler lives through a day full of opposing directives with their stay-at-home dad. . . The parts of this day will be familiar to parents and children alike. . . A fresh take on opposites and routines for the very young." -Kirkus Reviews

"Opposites loom large for babies, and Gee brings the concept to adorable life. Her action-packed visual vignettes refreshingly feature a brown-skinned baby and caretaker dad who dramatize the obvious ('no' and 'yes') and the more subtle ('yay' and 'uh oh'). Her touch is feather-light, with many telling details to spot."  -The New York Times

"This opposites book follows one active brown-skinned toddler and stay-at-home-father throughout a busy, fun-filled day. . . When Mom gets home from work, the family's love and contentment is further underscored by a book-and-snuggle time while caregiver Dad takes a much-needed load off - next to a pile of laundry, because a parent's job is never done." -The Horn Book