Warriors Manga 3-Book Full-Color Box Set: Graystripe's Adventure; Ravenpaw's Path, SkyClan and the Stranger (Paperback)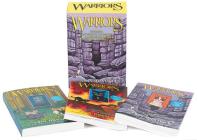 $38.97
Email or call for price.
Other Books in Series
Description
---
Don't miss these Warriors manga adventures!
This manga box set contains three full-color manga paperbacks from the #1 bestselling Warriors series: Graystripe's Adventure, Ravenpaw's Path, and SkyClan and the Stranger.
In this epic collection of Warriors adventures, Graystripe is captured by Twolegs, Ravenpaw fights to protect his new home, and Leafstar must guide SkyClan through the arrival of a mysterious stranger. 
With newly colorized art, these stand-alone manga adventures are perfect for the collections of longtime Warriors readers or any graphic novel fan.
About the Author
---
Erin Hunter is inspired by a love of cats and a fascination with the ferocity of the natural world. In addition to having great respect for nature in all its forms, Erin enjoys creating rich mythical explanations for animal behavior. She is also the author of the Seekers, Survivors, Bravelands, and Bamboo Kingdom series.