Father Greg Boyle Author Event
Gregory Boyle
Author of Barking to the Choir and Tattoos on the Heart
Wednesday, December 13th at 7pm - Ticketed/$30
Currently sold out, but we have found a new location so please put your name on the brown paper tickets wait list until we finalize details.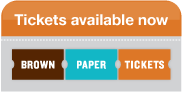 Buy tickets for Father Greg Boyle Author Event
On Nov 14, Simon & Schuster will publish BARKING TO THE CHOIR: The Power of Radical Kinship, the second book from Father Greg Boyle. I'm sure you're familiar with Greg, but friendly reminder: he's the founder of Homeboy Industries, the largest gang intervention, rehabilitation, and re-entry program in the world. He's also the author of the bestselling, awe-inspiring Tattoos on the Heart, which came out in 2010 and introduced Homeboy Industries to a larger audience.
BARKING TO THE CHOIR is somewhat an extension of Tattoos on the Heart. As Homeboy approaches its 30th Anniversary, Greg shares what three decades of working with gang members in his native Los Angeles has taught him—and what he hopes it can teach readers—about faith, compassion, and the enduring power of human connection. The book is written with the same gentle and humorous tone that he is known for among the thousands of homies he's helped, and the countless people who hear him speak year after year.
To attend the event, you must purchase a ticket through Brown Paper Tickets (purchase link above). Each ticket is $30 and includes a copy of Barking to the Choir, which will be distributed at the event. No exceptions.
Barking to the Choir is not available until November 14th.
Event date:
Wednesday, December 13, 2017 - 7:00pm
Event address:
Manhattan Beach, CA 90266